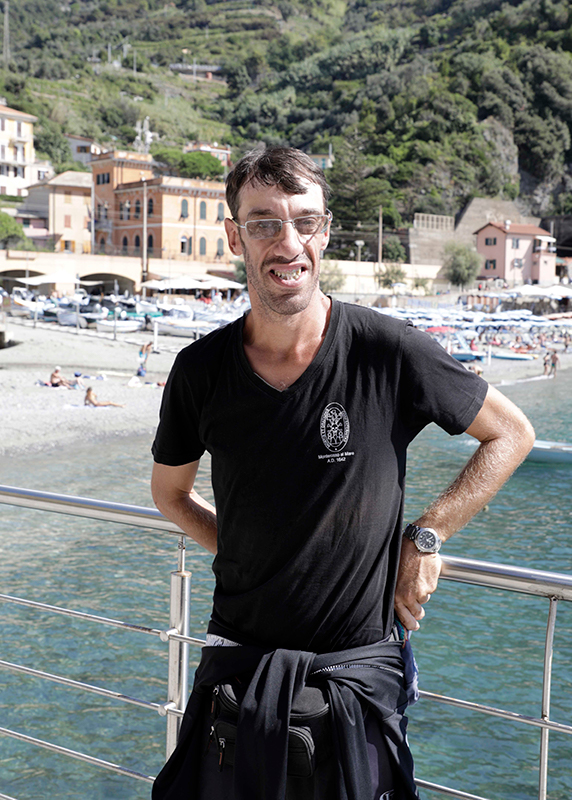 14 Apr

Mino

"I became passionate about Bescantare while acting in school theater. In the village comedy, I am a half-crazy Tunisian guy from Tunis.  I am good at it because I really am crazy. I have a lot of hobbies like playing bocce at the court.  I've been playing for 15 years but before that I played soccer, my position was always forward.  The court slopes, it's a trick and you get used to it. Which field?  I think both of them slant, actually.  Usually when I play bocce I'm the youngest on the court at least by thirty years.  
Yes, I think I'll spend my whole life here — where can I find a place better than this?
I work on the beach. No, not as a lifeguard, I help to unload stuff and close the umbrellas. I also stopped drinking, between meals, I mean.  When I eat I dilute my wine with water. Oh! What time is it? I have to go now, my mom made anchovy pasta today."
Note: Bescantare comes from Monterosso's dialect and it literally means "to tease."  It's a tradition that has now expanded to all the Cinque Terre villages. Historically, locals would go to bars and taverns asking for free food and wine and the hosts who refused were made the object of ridicule.  Now it has developed into a form of dialect theater that animates the summer evenings of the Cinque Terre.