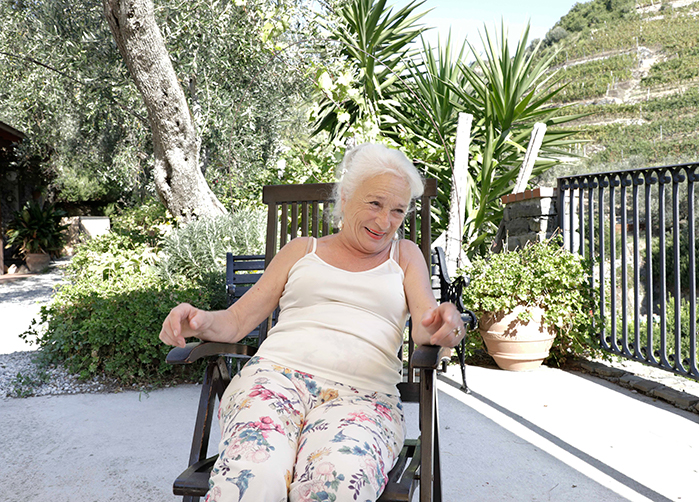 14 Apr

Loredana

"17 years ago when we bought what is now the Buranco agritourism, it was all woods here. This land requires patience, there are no shortcuts. 
Until 1750 the main economy of this area was based on silkworms, which were then spun in Chiavari.
Then a disease eradicated the silkworms and rather than mulberries people started planting other shrubs, but they were invasive species.  In fact, there were no wooded areas here, the first ones you would encounter were around Pignone.  When they talk about Mediterranean brush here, I can't help but laugh. There is no brush, only brambles, the kind that you can't hide behind if  you try to make love.  And yet, they cannot be replaced.  I challenge you to understand the rules that man imposes on himself, all in a pretense that things are under control: the land, the village, life.
The main problem these days is that there are too many people.  We should require vouchers where visitors must spend €25 or €30 a day in this area. 
I worked for 40 years in a bank, I have some ideas about how to get things turned around. I am originally from Montemarcello, on the other side of the Gulf of La Spezia. In my family we have always been landowners, I liked the idea of ​​having a place here. If we could, we'd build a new wine cellar. Every year we have to set up and take down a temporary cellar where we make our Sciacchetrà. I like to use this metaphor, here in the Cinque Terre it's like having a beautiful child — it makes you happy, but sometimes it creates more problems than if it were an ugly one.
. The problem is love (or lack thereof) for this land. Many people here can't wait for November to go to Cuba for three months.
That's why for the harvest we have an international team that comes in from Africa and Asia.  They work really hard.  It's oftentimes the outsiders who make the biggest contribution, not just here but also elsewhere."