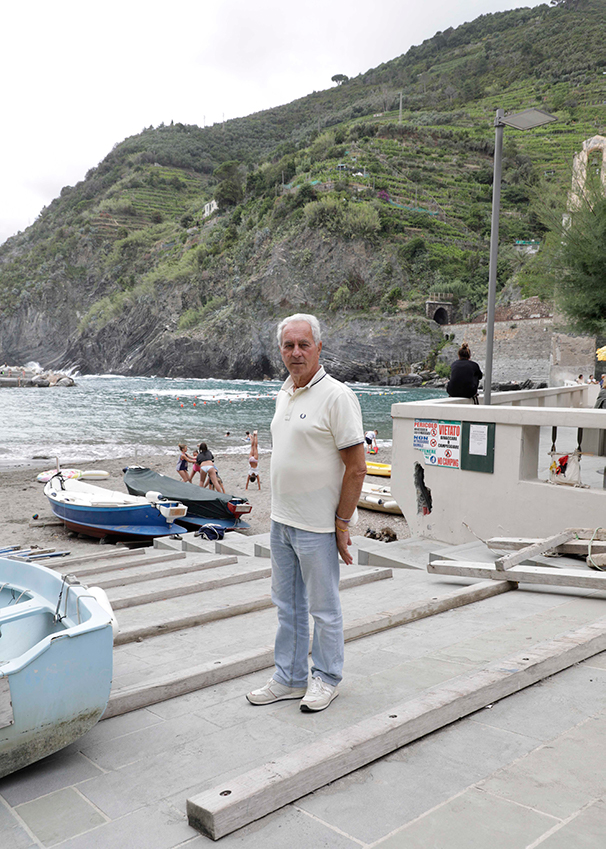 14 Apr

Lino

"I started swimming in the sea when I was 4. 
From 1975 onwards I trained all the great champions of Italian swimming: Calligaris, Pellegrini, Fioravanti, Paltrinieri.
I was part of the Italian expedition to the Los Angeles Olympics in 1984. At the opening ceremony, you could see me near the flag walking apart from the crowd. It's part of my nature.
When I was in Genoa Sturla in 1975 I realized that swimming was the only sport in which there were no races for seniors. That's when I created the first 'Master' race in Italy. I called it 'The gathering of the old glories' and I set up categories divided by age in 5 year increments. How did I come to call it 'Master' you say? I was at the harbor in Vernazza when I saw an old man in a sailing boat. The boat was called Master. It seemed to me a more respectful name than senior. 'Here is my name,' I thought. It turned out that my intuition was spot on, that name and division are now widespread in all Italy, in all sports.
For the 2008 European Championships in Dubrovnik they wanted me to train the long-distance national swimming team in Rome. In August.
I called the Federation and I said, 'I will not move from La Spezia, if you want me you know where to find me'. In the end, they were the ones who came here. They gave us the 'Venere Azzurra' pool and we stayed at the Jolly Hotel. I took them 3 times a week to swim in the sea in Vernazza. There are no lanes at sea, you have to get used to reference points. Here it was the Giant, the sculpture in Monterosso — we went back and forth many times a day. Long-distance swimming is often considered a sport for B-series swimmers, for those who cannot compete in the pool. The truth is that it's a totally different way of swimming. Like everyone, we went to high elevations to increase red blood cells. There's no other sport like swimming, the work is always on the individual and personalized. For example, my packed cell volume is 50, that's why I'm always on the move. You can swim anywhere, in Argentina we used to swim in the rivers. I stopped training in 2016. I miss the smell of chlorine and the ritual of undressing.
I am alive thanks to laziness. I used to swim everywhere. I had good numbers; I won the Military World Cup in the 1,500m and 400m mixed races after which I was recruited by the national team. But In 1966, I hadn't trained enough and I wasn't on the roster for the Bremen meet. The flight that took them there crashed during landing and all 46 passengers died, including all my companions on the Italian national team. It was the Superga of swimming. Thanks to swimming, I saw places in historical moments. In East Germany they came to welcome me at the airport in Leipzig and from there they never left me alone for even a second. I was assigned a companion who said he was a coach, but it was clear that he had never set foot in the pool in his life.
German swimmers were very strong at the time.
Every now and then they stopped training to drink fruit juices that they never offered to me. However, everyone was very kind to me and every day they said, 'Tell us what you'd like to do today, anything.' I made only one request, and I went to see a concentration camp in Buchenwald. Of so many fuzzy memories, one remains so clear today — when I saw the lampshades made with human skin. I recall the years at Indiana University with particular pleasure, for a combination of factors: I was very young, and I was hosted in the women's college. Those were the years of Spitz, who also came to visit us, but to be honest it is not my favorite memory from those years. We went to China in 1984: Beijing, Shanghai, Chengdu. It was the China of Antonioni's documentaries, everyone was on bikes and in uniforms. They told me that they were signing an East German manager. Unsurprisingly, they became among the strongest national teams in the world shortly thereafter. The fruit juices had finally arrived there as well."