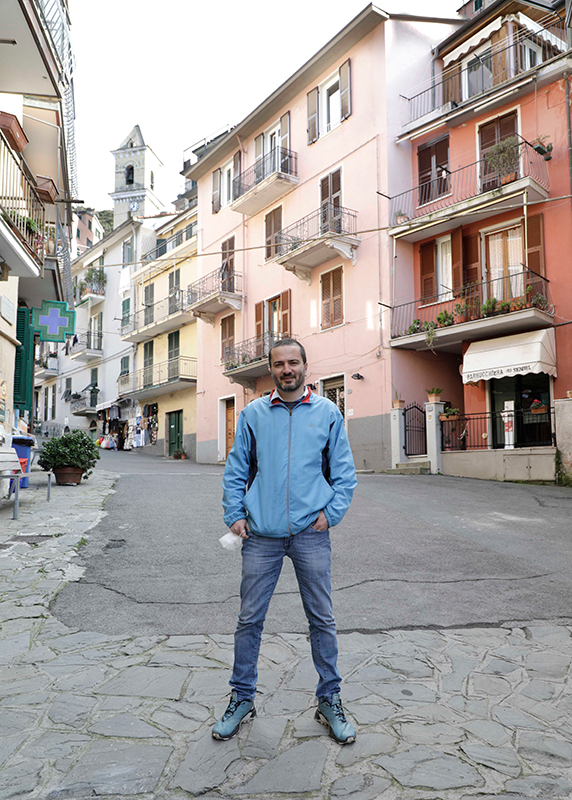 14 Apr

Eugenio

"Cinque Terre haven't always been as you see them now. I think the turning point was the opening of the first youth hostel in the 1990s. From that point onward, we began seeing people from all over the world — mostly young people.
In the beginning we wanted nothing more than for the Cinque Terre to become famous, we were proud of this place and we thought it deserved the recognition.
Today we have the opposite problem, with "overtourism" bringing 3.5 million tourists to an area with just 3,500 residents. For each resident that's a thousand tourists! And most of them are concentrated in the peak season.
It's problematic for us in terms of physical space, of course, but it also makes maintaining our identity a challenge. Many locals simply cannot tolerate the invasion and they move elsewhere. Unlike Venice and Florence, we don't have a long history of tourism to fall back on. It's a new phenomenon here and we don't have the cultural or organizational tools to know how to best handle it just yet. As the total number of tourists continues to grow on an international level, it's important for us to lead the process of influencing travelers before they arrive. Maybe a good way to do that would be to explain that this territory has similar, complementary areas nearby that are little-known and could greatly benefit from a higher presence of tourists. Not long ago, a bar in Manarola closed early at 7:30pm because their staff was overwhelmed and exhausted after they were slammed  — there were just too many people that arrived all at once.
We must break free of this vicious cycle by promoting a brand new idea of sustainable tourism, which goes well beyond the selfie-stick-with-colored-houses pattern that we see on Instagram.
We need to get back to telling stories."