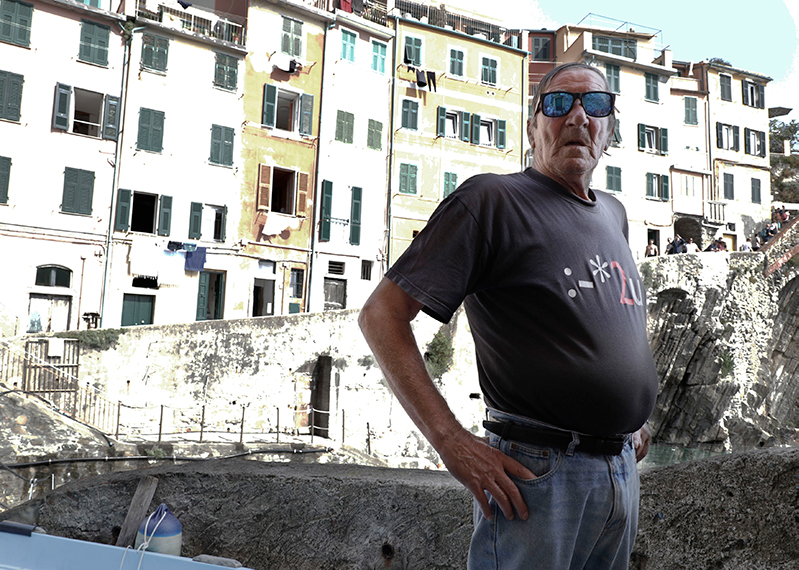 14 Apr

Attilio

"In the village, they call us 'The Senate' but I prefer those who say 'The Wise.' I've been retired since 1995, I'm 74 now.
We used to sit under the arches here in the marina but then they forced us to move because they had to open bars. We keep getting moved higher and higher.
At this rate it won't be long before they turn us into buoys at sea.
Everything we know about life we owe to our elders, they talked about the land and fishing.
Now we can't sleep at night, there's too much noise and too many people.
 I used to be a fisherman. For 15-20 years I was able to provide for my family with that, then they opened the park and it couldn't be done anymore. We caught sea bream and white fish. I sailed for a long time, always on passenger ships. I was a waiter and always in first class! One day during a cruise I served a Puerto Rican girl. Oh, I had seen a lot of beautiful women, but not like her… she was unbelievable!
We met and I invited her to come see where she would have to come to live. She stayed for a month and found herself at ease so we got married in Puerto Rico. I found my best man on the spot, he was a maître at a local hotel and he was from Monterosso.
Sometimes I sailed for up to 19 months, I was young and I wanted to travel. But when my bride moved here, I quit. It wouldn't have been fair, she had come here for me — I couldn't leave her.
It was 1972, then from '79 to '95 I worked as a sailor at the Fincantieri shipyards. I have four children, they are all settled and live between Moneglia and San Terenzo. The twins have wonderful voices, they perform in theaters. My children are no longer keen on visiting here, there are too many people. Sometimes they shop for me but in order to bring down the groceries in the car they have to spend €6 to enter the village each time. I have 7 grandchildren. I have no favorite days, each day is beautiful, especially when you're out on the sea. When I'm on land, I often find myself here. If I'm not here I'm either fighting with my wife or oil painting. Have you seen the scale models that I do by hand?
They cut my house in 1997, because of the work on the square. What do you mean, how? They cut it. The roof, gone, raus. They had to level everything and the angle wasn't right. I had the most beautiful view of Riomaggiore! Now if I want to see the sea I get a stiff neck.
But that wasn't the worst day.
One morning while I was out my TV short-circuited. The fire got everything, furniture, clothes.
Oh, and the smoke, there was black smoke everywhere and the smell never went away. It was 1984, I remember it as if it was yesterday. The firefighters came and they were supposed to write a report so that I could claim the insurance money. I trusted them, but they ended up doing nothing. We didn't receive a single cent. I had to start over from scratch, raus!
One day an American woman dropped a locket with a photo of her mother in the sea. She came to the dock and begged for someone to retrieve it for her. I went out, but it was 30 meters below. How did I get it? Oh no, no tanks… I went down and got it with just the breath in my lungs. She gave me a tip that I still remember to this day.
It's also for reasons like this that they call us 'The Wise'."