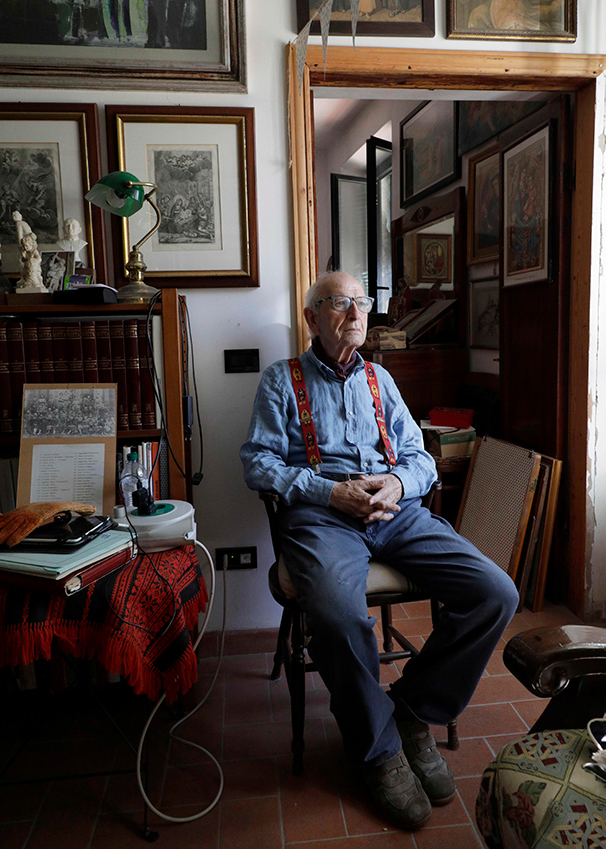 14 Apr

Anselmo

"I'm 84 years old. Okay, maybe not just yet, but I will be in a few months. I became deaf when I was two. 
Fascist laws prevented the deaf and disabled from attending school but my teacher secretly brought me to class anyway.
After that I went to a special school for the deaf, that is where I really learned to read. Do you see all the books in this house? I can't even count them now. Many of them I read while my father was in Germany, imprisoned in the Glachau concentration camp. From time to time he wrote us a letter just to let us know that he was okay and that he wanted to see us again. He used to call me Anselmino, little Anselmo. Later on he managed to escape and he walked all the way to Bolzano before catching a ride on a truck to Parma. I started out as a tailor at 25 and I did that for 13 years. Do you see this shirt? Touch it! I made it. Isn't it wonderful? And it lasts for decades!
The last few years before retirement I worked at the hospital. I never married, I lived with my mother until she died. This has always been my home and now it's also home to a museum. I no longer know where the house ends and the museum begins. In my spare time I have always looked after the vineyards. When I started harvesting everything was done by hand — there was no monorail then. When the vines are grown in rows the grapes are ruined, the wind beats the grapes and they lose their flavor.
Grapes were born to hang from pergolas where they are free to move. The good Vermentino and Sciacchetrà are made like this, there's no other way.
We need patience with things, and with life."