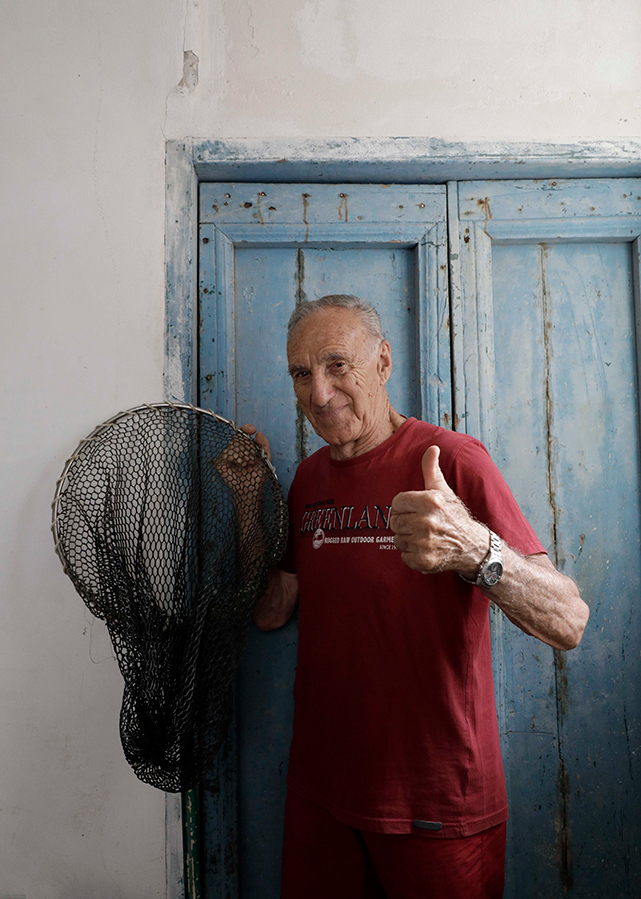 14 Apr

Andrea "tuba"

"I'm a mastiff, I am physically and intellectually fit. I am 84 years old, I wake up at 5:30 every morning and I go to cut the grass. I check people out and check people in. I say "Nice to meet you" and I collect the tourist tax. Lunch is at home, then there's 2 ½ hours of siesta, if the sea isn't too rough I go out to fish for squid, cuttlefish and octopus. I have bait for each one. The squid is the fastest fish there is, you know? Oh c'mon, what do you know?
Did you know that once upon a time the trains didn't stop in the Cinque Terre? Ah, see? There was only one track, and to be honest there wasn't much to see here. If you wanted to go to the city there was a train in the morning and one in the evening to return.
One day one of our villagers was seriously ill and we didn't know how to get him to the hospital in La Spezia. The whole village went down to the station and we all sat on the tracks. We were 700 people and the train stopped. From that day onward they decided to increase the number of trains.
As a child I was skinny, my father sent me to boxing to learn to defend myself. It's my secret that keeps me physically and intellectually fit.
One day I went shopping and I parked where I wasn't allowed. A man passing by called me a stupid old man so I chased after him and I said, 'Listen, do you want to go home tonight or do you want me to send you to the hospital in Florence where they'll build new pieces for you?'
Where are you going? Come here! Do you see these postcards here? I sailed for 35 years, on the Leonardo Da Vinci, the Michelangelo, the Columbus. We traveled the world: the Suez Canal, Australia, Polynesia, Hawaii, the Americas. I was away for nearly three years and when I came back home my son called me uncle, but then he got used to it again. From 1980 I started working as an axeman because my wife didn't want me to go away anymore.
The Germans I once knew always had their forefinger ready on the trigger. Now the nice young Germans who come here are always ready for something else.
There were no games for children when I was young, I liked playing with a whistle. That's why they started calling me Tuba in dialect.
Everybody has a nickname here. Come on, let me feel your muscles. I like you, but do I have to pose for the photo? Hey, you'd better do a good job, this place deserves only the best and we must hold up the name of the Cinque Terre in the world! I do it every day with tourists, they think they are going to be speaking with a feeble old man but instead they find one who is physically and intellectually fit."