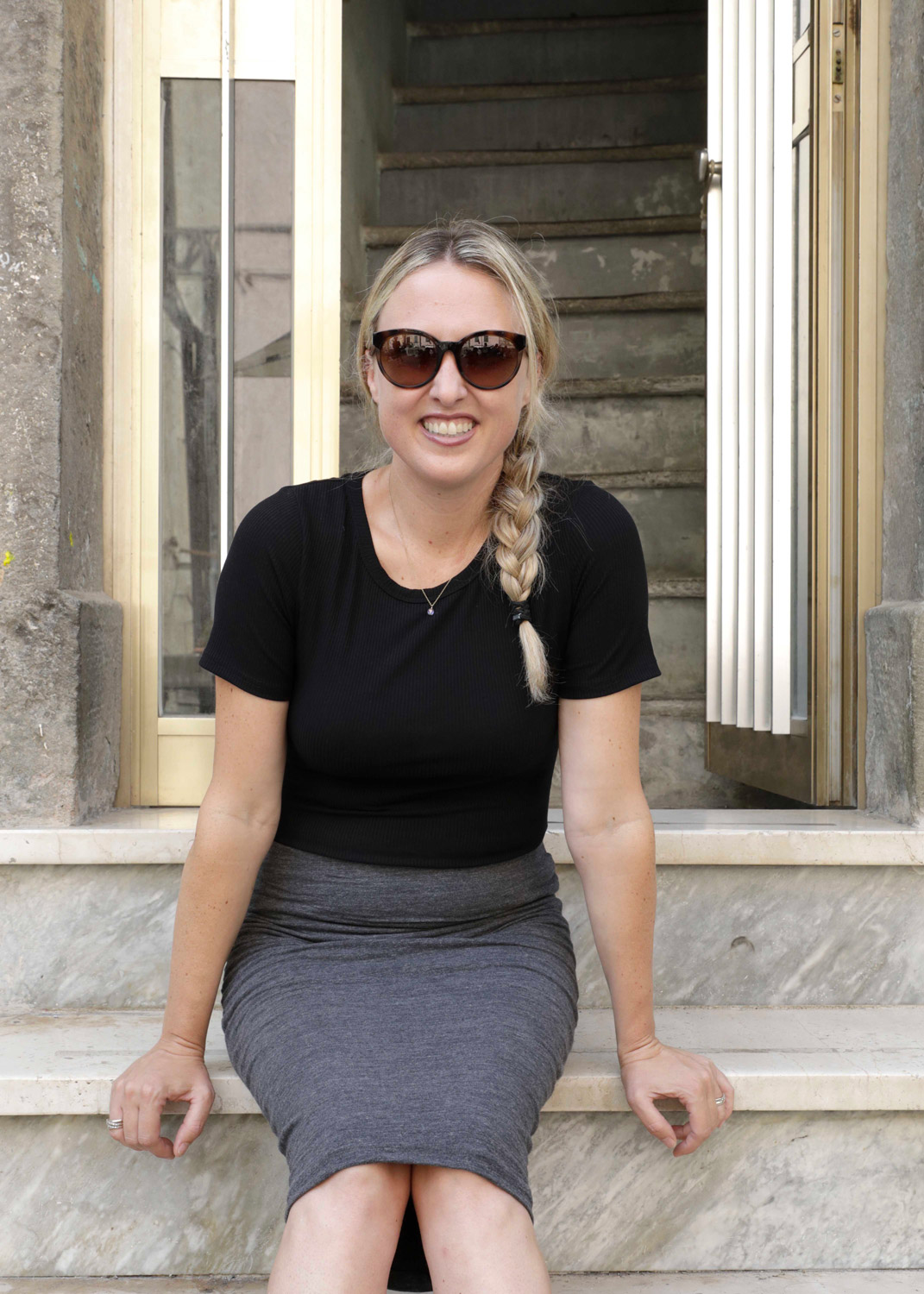 14 Apr

Amy

"How can you tell I'm American? I'd say by my determination and drive. Years ago, our village's nursery school was on the brink of closing — all that was needed to keep it open was just one more enrollment. Obviously, we couldn't invent another kid but we could pay the missing enrollment fees. I bought flats of flowers and we asked villagers for donations for the school in exchange for a plant. I'm not joking, there were people who gave a €50 donation for a little plant. Thanks to the generosity of the village we were able to pay for the extra enrollment and to this day the nursery school is still open. This sense of community is what makes me love Italy and, more specifically, this place. 
I grew up in California, just a few miles from Yosemite National Park. I ended up in the Cinque Terre National Park on the other side of the world. Crazy, right?
When I was 18 years old my dream was to move to a big city and I ended up finding my way to Sacramento. I decided that city life wasn't for me and it turns out that what suits me best is much, much smaller. 
The first time I came here I was 22 and on vacation. I ended up coming back because it was the place I loved most in Italy. Just four months after moving here I met my husband, he worked at his family's grocery shop in the village. I remember how he courted me — it was so Italian! Every day he came to my office wearing his white apron and hat with a cappuccino in hand. Now I've lived here for 16 years and we have two amazing kids, Marco and Mario, and our own business in the hospitality industry. When I first started working at the agency, people would come knocking on the door looking for the least expensive accommodations. Now everyone books online and they are mostly seeking chic or luxurious options, usually for just a few nights. There's a little community of expat moms in our village and we're all friends.  When I first came that wasn't the case, I was one of the first and I felt completely alone.  Initially it wasn't easy to find my place in such a tight-knit village.
I had always studied Spanish in school so when I first moved here I always had a pocket-size Italian dictionary in hand. Sometimes I learned new words that I thought were Italian but they were actually in dialect. I fumbled with the language and embarrassed myself all the time! I know that one way or another I will always be "Amy the American" but I really and truly feel that I've found my place here —  this is my home. That's probably why I love doing my part to help preserve and maintain local traditions that otherwise risk being lost or forgotten. 
Last year we brought back the Sagra dell'Uva grape festival. It had been 27 years since it was last celebrated. We don't publicize or market it, it's actually for the villagers. Do you know the Pisellino di Pasqua tradition? Nobody seems to know about these plants unless they are from this area. It's the most fascinating thing! You take vetch seeds and soak them in water overnight. After that you drain the water, add a little bit of soil and leave the seeds in a completely dark place. It's actually a pretty long process, you have to start twenty days prior to Easter. You should have seen how many people grew the plants this year! It's still hard for me to accept a few things about Italy: the inefficiencies, the lack of clear and effective communication, and let's not forget about the little old ladies who cut in front of you in line. But the things I love about Italy far outweigh the negative aspects. It's such a peaceful country! Maybe that's not the right adjective in this precise moment, but in general it's true. Just an example, Italians say they 'get two pigeons with one fava bean.' Americans say they 'kill two birds with one stone.' See what I mean? 
This year I worked on a project with a local winery. The objective was to teach local kids the arts of grape growing and winemaking.
The name of the project is actually in dialect: Fanti enta Betiga & Fanti enti Cian. Did I pronounce that right? It translates to  "Kids in the Wine Cellar & Kids in the Vineyards." I started a blog to get correct information on the Cinque Terre out there, including the status of the trails, upcoming events and more. Surprisingly, it seems to help not only visitors but also locals. Not too long ago, the blog hit a million views.
I know they say that Italy is an aging country, but maybe when I'm old I'll want to move back to California — mostly for the conveniences. Years from now, all of these stairs might be more tiring than charming."